The founder of Multidrive was a legendary engineer and successful businessman called David J. B. Brown (DJBB), CBE (Queen's Award for Commander of the British Empire). David spent his early career as a logging contractor in the United Kingdom & the Congo. His dissatisfaction with trucks, trailers & tractors on the market led DJBB to produce articulated tractors (patented in 1958) for his own use.
1960/70s: DJBB was designer & founder of companies making underground mining machines, wheel loaders, tractors, cranes & 8 x 8 logging forwarders.
1975: DJBB formed DJB Design & Engineering Limited (BDE) to design and manufacture articulated trucks.
1983: Multidrive formed together with David John Industry (DJI) – the think tank of the group and Artix the manufacturer for articulated trucks, telescopic material handlers and other construction equipment.
1985: DJBB sold articulated truck design rights to Caterpillar, but continued to design & manufacture the product.
1987: David Brown purchased the Bedford Truck in Dunstable UK from General Motors who were a large supplier of civilian and military vehicles world-wide, re-naming the product range AWD (All Wheel Drive) Bedford and it became part of the group under his ownership & control.
During the AWD (Bedford) period 1987-1992, a large range of AWD vehicles were produced for both military and civilian applications, but it was the military variant that generated the higher volume sales.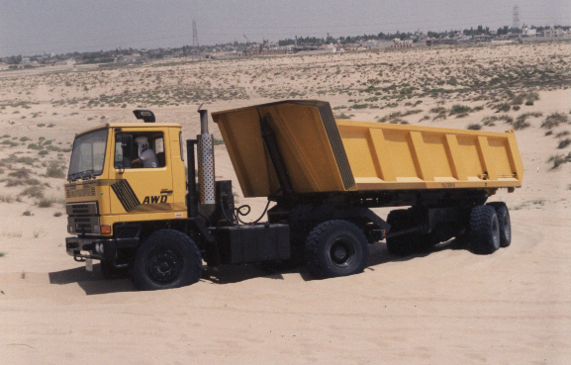 AWD (Bedford) Multidrive MTM55 (circa 1989 Dubai) purchased by Central Military Command (CMC) in Dubai.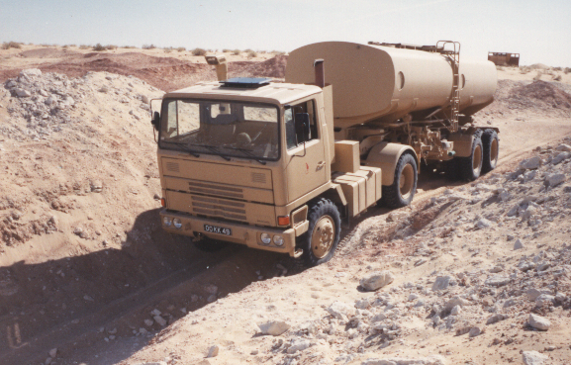 British MoD purchases around 30 Fuel & Water Tankers to be deployed in support of Operation Desert Storm in the first Gulf War.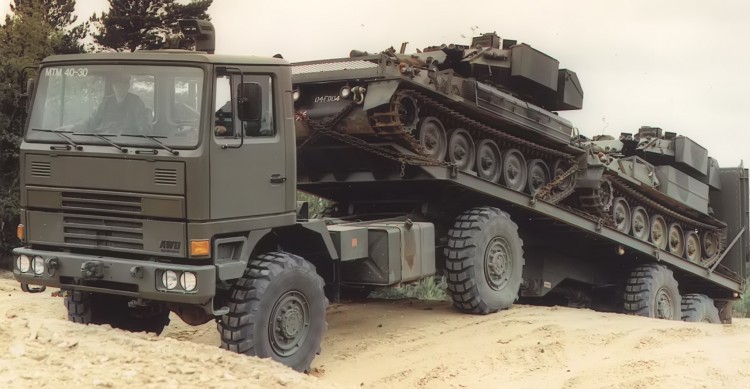 The vehicle was first built as a flatbed trailer fitted with hydraulic loading ramps for transporting two Scorpion Tanks over various terrains.
MTM40-30 Military configuration MTM40-30 climbing 'the knife edge' at Long Valley during demonstration at BAEE (circa 1990).
1990: AWD/Bedford Military tankers developed by DJB based on original Bedford truck deployed in the Gulf War – the first 8×6 Multidrive vehicles produced.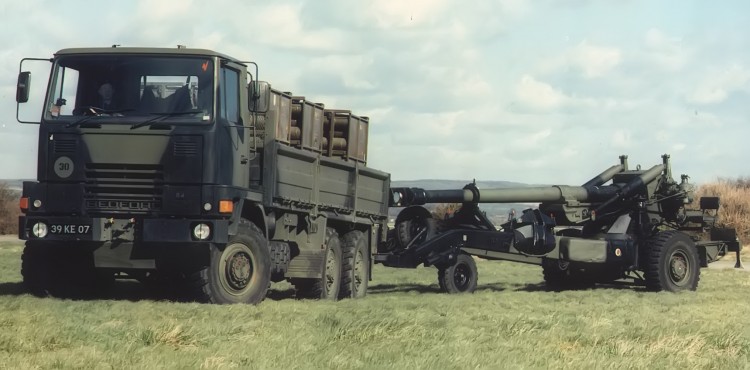 1996: DJBB sold BDE, Artix & DJI sold to Caterpillar.
The business achieved £3 Billion of exports and gained 4 Queen's Awards to Industry, with an annual turnover of £400 Million.
David went on to become a Design Consultant for the Cat 7 Series ADT.
Today, the products are still produced at the original factory in Peterlee in the North East of England and exported around the world by Caterpillar.
During this period Multidrive produced further fuel vehicles which were built and delivered for the UK MoD these were the first produced with the Foden Tractor units (8×6).
1997: Purpose built design, development and manufacturing centre for Multidrive opened at Thirsk. Incorporates lessons learned from 30+ years of supplying articulated trucks haulers in the world, Multidrive focused on design, development and manufacturing of a new range of military and civilian vehicles.
UK MoD purchase a large volume of Foden Multidrive Fuel Tankers built at Multidrive, Thirsk.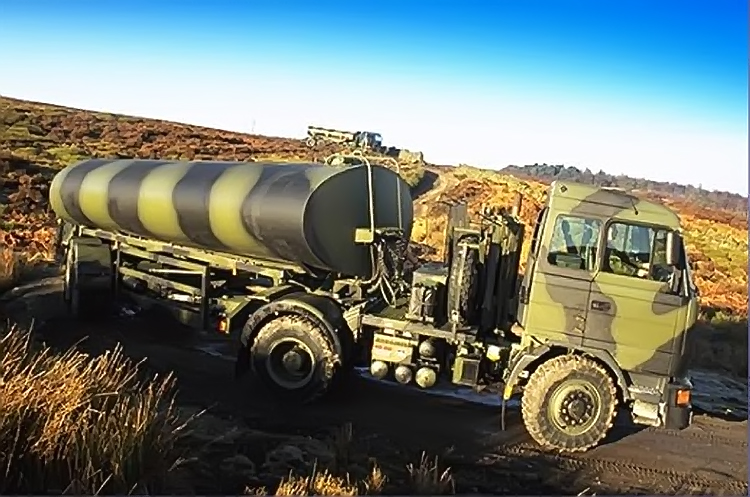 Multidrive Foden 8×6 Fuel/Water Tanker (UK MoD circa 1999-2001).
Multidrive became closely involved in the development and tenders for various MOD vehicle projects, including:
HET (Heavy Equipment Transporters)
FFV (Future Fuel Vehicle) 
FCV (Future Combat/Cargo Vehicle)
Wheeled Tanker
QinetiQ Hybrid 6×6 – Multidrive carried out the design, build & demonstration of prototype vehicles to MOD
1999 – 2001: Multidrive supplied further larger volume of 8 x 6 and 8 x 8 fuel and water tankers for MOD operation in the Gulf War, Bosnia, Kosovo and world-wide over a variety of terrains.
2000: Multidrive Horizontal Ejector  and Drive-line systems on trial in South Africa.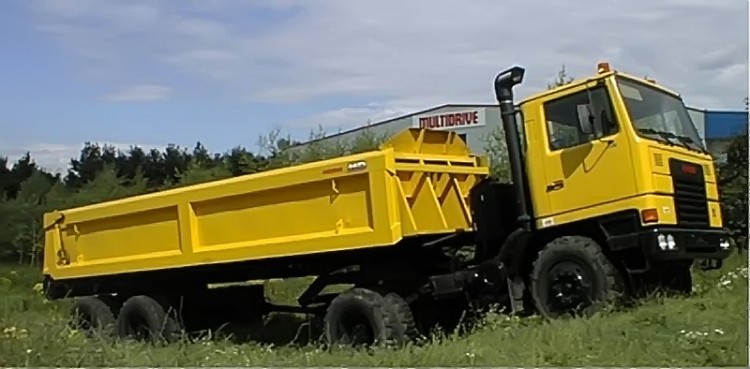 2001: Production of M8 vehicles commenced, and sales to South Africa and UK were established. Circa £25 million was invested in the development of the vehicles.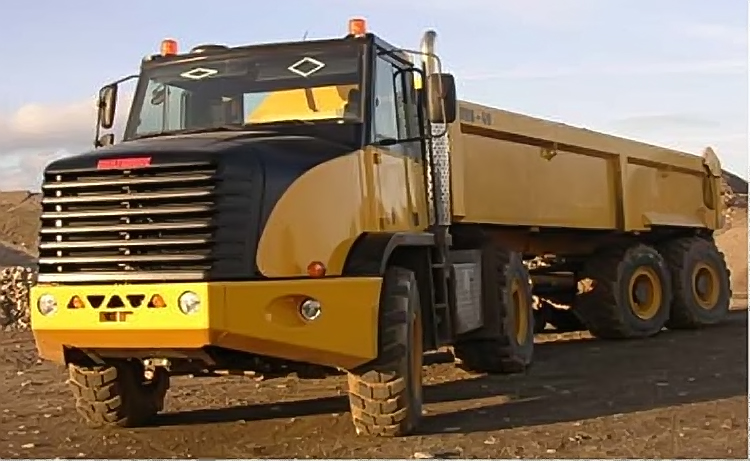 2003: A complete range of new military vehicles was established and a further £15 million was invested in this new range of military vehicles.
2004: M8 vehicle on trial in USA and sales promotion in progress.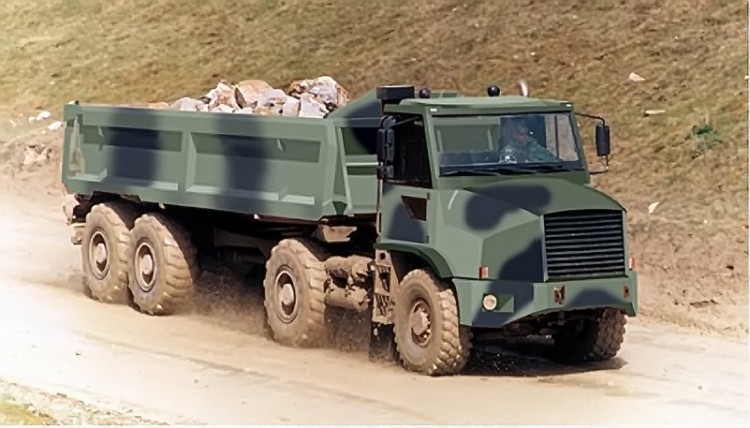 2006: Following the death of DJBB, the company went into administration. 
2007: Dr Qu Li purchased all Multidrive IPR, designs and technology and the business.