The pre-lockdown demonstration of the Multidrive horizontal ejector (MHE) kit held in February was not only popular with the attendees but also the Press. Kevin Swallow from Transport News has written an article published in the June issue of Transport News. The article is shown below. Don't forget to subscribe to our regular newsletter to receive updates on industry news and views, and how the MHE is being specified more often as the alternative to vertical tippers and walking floors.
Multidrive held a two day demonstration of its horizontal belt driven ejector system to show how it discharges aggregates and asphalt, as an alternative to tippers and moving floors. Trailer manufacturers, operators, fleet managers, health and safety professionals, and Kevin Swallow watched on to see how it coped.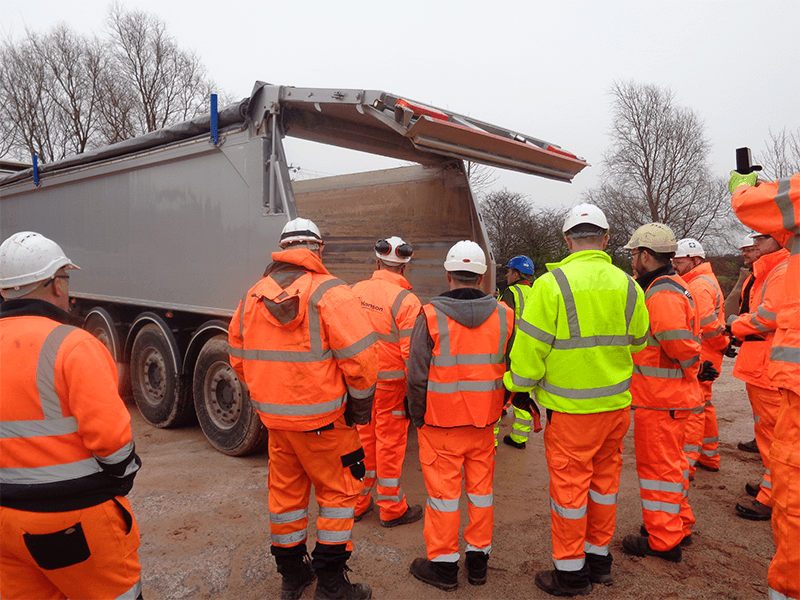 Although the death knell for tippers has long been predicted it has yet to arrive. No one argues about the safety hazard attached to tipping goods out onto the ground, yet moving floors cited as the alternative method has not yet delivered the silver bullet. From across the bulk transport sector, trailer manufacturers, operators and fleet managers to health and safety professionals made the trip to the Hanson Asphalt plant at Ashton-in-Makerfield, Wigan to see if a third option of discharging bulk materials from trailers, semi-trailers or rigid bodies works. On hand to highlight the technical features and safety benefits of the Multidrive Horizontal Ejector (MHE) were the event's hosts, John French, project manager, and Stephen Boughton, head of technical and sales, from Multidrive. John said: 'My main role as project manager is to engage with companies that currently use vertical tippers for the discharge of aggregate and asphalt, but may also be using or considering using safer and more environmentally friendly alternatives, for instance horizontal ejector based systems.' He explained that their MHE system is a robust and safe bulk handling ejection solution 'that can discharge in a fraction of the time taken by other horizontal ejector and tipper systems, with no tipping required and no carry back of material'. 'It is versatile, ideal for a broad range of material, it can discharge into heaps, on the move in forward and reverse, and it is safe; it can discharge on uneven ground, and in areas of confined headroom, in tunnels and under bridges and in buildings,' he clarified. He further explained that 'in light of the increasing focus on zero harm contracts the MHE ticks multiple boxes for both the owner operator or franchised operator, also the major fleet users'. Because it has fast, controllable discharge the MHE enables more loads per day, he contended, and with fewer moving parts it also reduces the need for maintenance. 'The floor uses a proven 'continental' high temperature and oil resistant rubber with a synthetic fabric layer underneath, and the mechanism is based on a reciprocating, rather than a continuous conveyor belt,' he stated. 'It uses a Bosch Rexroth hydraulic gearbox fitted in the rear of the trailer to move the floor backwards and forwards. 'Also, there is a belt scraper and mounting brackets, 12m long conveyor belt to suit a 10.5m body length, a retraction mechanism for the headboard with hydraulic cylinder, sheave wheels and wire rope. 'The hydraulic system includes a pressure filter and control manifold integrating all the hydraulic functions including conveyor drive and tailgate lift and lower. It has remote control and limit switches complete with wiring harness,' he added. For the operator, their tractor unit requires a PTO, reservoir and system relief valve to supply up to a maximum of 110 litres per minute at 350Bar. Stephen Boughton said: 'Multidrive produce two types of fl oors; a 12-to-12.5mm thick dual purpose fl oor for asphalt and aggregate, and a nine-to-10mm type only for aggregate. It is versatile and is capable of more than 29 tonnes payload.'

He added that 'the weight of the MHE kit is approximately 900kg for the aggregate belt, for dual purpose there is additional weight for a thicker belt and scraper blade fi tted to the rear'. 'The range of temperature for the thicker belt is from 80 degrees centigrade to 300, the heat retention period for discharge is more than three hours, which also depends on the body type and material,' he said. To demonstrate the equipment, Hanson franchise haulier Martin Taylor came up from Bristol with his Fruehauf triaxle trailer fi tted with the MHE aggregate system. He is ideally positioned, with direct experience of tippers, moving fl oors and the conveyor belt system. His fl eet consists of four tractor units and six trailers. 'I run three tippers, I've got a brick and block carrier and two with the MHE kit fitted in,' he said. 'For the last four years I had two Wilcox moving floor trailers, which I have just sold.' Six years ago, he retrofitted a nine year old trailer with an MHE dual purpose belt which he still uses regularly for aggregates and asphalt loads from 20mm stone asphalt that acts as a base, to finer products for finished roads like SMA (stone mastic asphalt). He said: 'The belt can stand 300 degrees, the longest we had the SMA on the belt was three hours. It was fine, the belt acts as insulation.' Martin added that 'specifying a dual asphalt and aggregate belt on the Multidrive MHE can be an economic and time saving investment as the MHE belt can easily last five years or more and provides greater flexibility to discharge a wider range of materials'. Eighteen months ago, he took delivery of his second MHE belt trailer built for aggregates by Fruehauf. His Fruehauf's 45cu.yd trailer is an aluminium plank sided construction with a Hardox liner, a Shurco side to side electrically operated sheet, hydraulically operated tailgate, and with a remote controlled operation of the rear door, the cover sheet and the conveyor system. 'The only problem I have had with the MHE in six years was with the older trailer. The belt snagged against a damaged section of the aluminium sides of the trailer and began to wear the edge, and to sort that out I put Hardox on the sides of the trailer to stop it wearing and it has been fine,' he said. He also put Hardox into the floor and sides of his tippers, which has proved beneficial for delivering dust and other materials that stick inside the loadspace when the trailer body has been raised. 'It means you don't have to go so high before the materials come out,' he explained, 'but the body is still in the air and that is always a safety risk, and you need open, flat ground to do it.' Regarding his other walking floor system that used reciprocating metal slats he said 'transporting dust in the moving floor trailers proved successful but it came at a cost. Those moving floors use Mercury Quicksilver covered bearings, and the dust that gets underneath the slats acts as a grinding paste and wears out the bearings. They are quite expensive to keep replacing.' Martin also mentioned that it also took the driver more time to clean the moving floor trailer between loads of asphalt followed by finer aggregates, so that dry loads like dust didn't stick. With the MHE system the payload is just over 28 tonnes, although he admitted the trailer is heavier than it should be. In the asphalt plant Martin loaded up with several different types of aggregate; 0.4mm limestone blend, sub-base and recycled aggregate. Each load was discharged inside a minute.